Plaster recycling for cement industries
Company: A consortium has been set up and brings together Walloon players specializing in the collection and treatment of construction waste, from public and private sources, including Ipalle, SUEZ Environment and Cogetrina (Dufour group), research centres active both in the field of treatment, recycling and recovery of solid materials (CTP) and in the cement industry (CRIC) as well as an engineering and assembly office (Euremi) heavily involved in the cement sector.
Problem: Plaster (hemi-hydrated calcium sulphate) originates from gypsum (di-hydrated calcium sulphate) after calcination (150-170°C). The reverse process consisting in rehydrating the plaster will make it possible to reproduce gypsum. This reversibility makes plaster a potentially infinitely recyclable material. In addition, the specificities of plaster make it a material heavily used in construction in our regions where the sector is well developed. Plaster waste therefore constitutes a non-negligible share of construction waste since it represents a reservoir of 80 kt/year in Belgium.
Currently, Wallonia does not have any recycling and recovery sector for plaster-based waste, the majority of flows are sent to landfill, generating a mediocre economic and environmental balance sheet. Treatment processes remain relatively marginal since they are limited to relatively pure source materials such as gypsum board free of any exogenous element and which are, at best and sporadically (depending on opportunities or matter shortages), sent to neighbouring regions (Flanders, Netherlands, Germany, France). However, the ever-increasing will of the European Union to be part of a circular economy policy, by limiting its production of non-recyclable waste and ensuring the preservation of its resources, leads to the development of ever stricter directives -to the various sectors, including the building sector (BTP), imposing ever higher collection, sorting and recycling rates on them. This type of waste therefore represents an important resource for the Region.
The general aim of this Greenwin project is to evaluate the possibility – during a two-year Industrial Research (IR) phase and a three-year Experimental Development (ED) – of using, after treatment, recycled gypsum flux (CaSO4.2H2O) as a setting regulator in cement. By recycled gypsum stream, we mean gypsum boards or gypsum resulting from "plastering" (ready-to-use plaster, CaSO4 1/2H2O placed and in excess). Remember that Portland cement is not only made of clinker. It also requires a "setting regulator" which is none other than gypsum or a mixture of gypsum and anhydrite (CaSO4). By setting regulator, we mean a material that allows the ground clinker not to set too quickly ("flash set") when it is mixed with water.
CRA action: CRIC has developed a method to assess the performance of recycled gypsum flows compared to two industrial gypsums (one natural and one artificial from the production of citric acid). CRIC's tasks in this research were: to characterize the processed recycled materials, to develop an assessment method for the quality of the recycled streams, to adapt the process using the first streams coming from the pilot, and finally, to assess the robustness of the process (analysis of extreme flows).
To do so, clinkers (products without setting regulator) from the three Belgian cement producers (CBR, CCB and Holcim-Lafarge) were purchased and ground to a determined particle size by the CTP with a semi-industrial ball mill. CEM I and CEM III/A cements were prepared by blending three ground clinkers from Belgian cement manufacturers. The latter were manufactured with four fixed sulphate concentrations (above their natural value) by addition of the two industrial gypsums (the natural and the artificial). A series of tests were then carried out on the mortars made from the forty eight cements (3 clinkers x 2 types of cement x 4 concentrations of gypsum x 2 types of gypsum). Finally, based on the results obtained from the detailed tests, an optimum sulphate content was determined for each clinker.
Industrial benefits: Based on the conclusions drawn from the research, a prototype plant for plaster waste treatment plant was set up near the waterway, at the Port Autonome of Pecq in Belgium. It is integrated into the existing halls of the autonomous port operated by the company DUFOUR. In order to ensure the quality of the recycled product, a first hall is specifically dedicated to the storage, pre-grinding and sorting of incoming waste, while a second hall has treatment facilities and stores the end product. The pilot project is so successful that foreign parties have already expressed interest in developing a similar plant.
An amount of two million euros, partly financed by the Walloon Region (SPW-EER), was invested by IPALLE, DUFOUR and SUEZ in the construction of these facilities. Three jobs have been created on the site, which, in future, should process 10,000 tonnes of plaster per year. By recovering this fraction of waste in collaboration with local cement manufacturers, this project contributes to the WAPI 2040 territory project, fully in line with the circular economy from both an economic and an environmental point of view.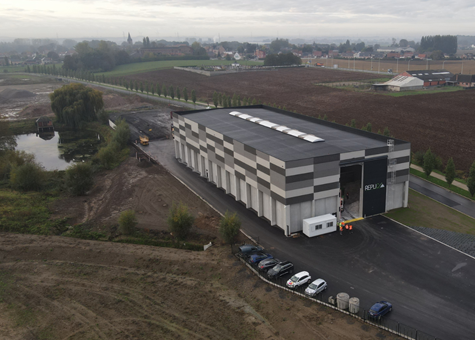 Back to the list of success stories