CarSiFer – Sustainable re-use of valuable metallic elements
Company: Representing a turnover of 30M€, 86 people and 200 000 tons processed per year, Revatech is one of the leading companies in Western Europe for the treatment of industrial hazardous and non-hazardous waste. With two complementary sites, Revatech processes a wide variety of materials through many techniques: stabilisation, biological & physico-chemical treatment, preparation of mineral and energetic mix for the cement industry, production, through hydrometallurgical processes, of non-ferrous concentrates, and the recycling of alkaline batteries.
Through the European CarSiFer project coordinated by Revatech with CRM Group as a partner and co-funded by EIT Raw Materials they aim to recycle unused and currently dumped industrial waste to create value and especially a better world.

Problem: In the context of resource scarcity and stringent environmental regulations there is a continuous need to explore and invest in new technologies and skills dealing with agglomeration of fine (secondary) raw materials and metallic turnings or swarf. In foundries today a lot of unused and disposed of industrial waste still contains valuable metallic elements. By re-use two major targets are impacted : landfilling avoidance and accessibility to sustainable alternative raw materials.
CRA action: In order to provide solutions for the challenges put forward by Revatech and many other partners with similar needs, CRM Group has invested in a wide range of cold processing equipment. Hence CRM Group is able to test and compare various technologies in an unbiased way and on a large panel of (secondary) raw materials to maximise their value in use amongst others in the foundries area. The latest acquisition is a de-airing extruder equipped with a vacuum pump in order to improve cohesion of particles in the extrudates, thereby reducing the consumption of binders compared with other technologies. It can handle a flow rate of up to 100 l/h with a pressure of 25 to 50 bars and is designed to perfectly reproduce results obtained with industrial extruders. The final result is a unique and versatile pre-processing platform. The expertise and equipment of CRM Group in cold agglomeration enabled to meet the major challenges that were at the heart of this project.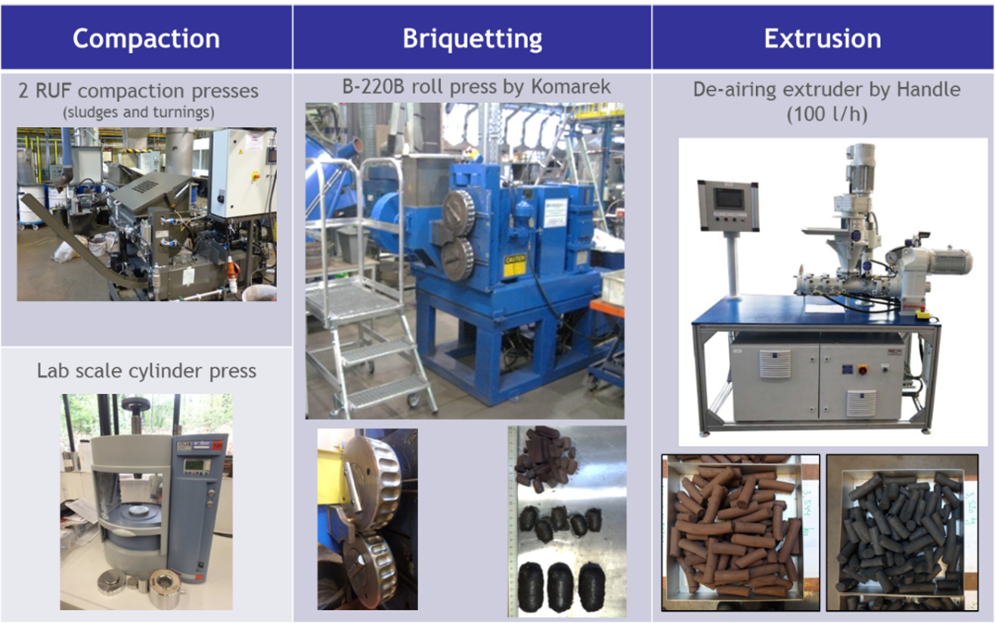 As a first step, waste streams were identified and analysed to determine their true potential. These streams were then collected and combined in such a way to meet the compositional requirements of foundries using cupola furnaces, but also to increase their mechanical performance after agglomeration, thereby improving their recyclability. These streams are finally agglomerated to produce briquettes in order to validate the entire waste recycling process on the basis of tests at industrial scale.
Industrial benefits: In 2021, many trials were carried out at CRM Group in order to determine the most convenient agglomeration technique and optimal operating conditions for a given waste mixture (see examples in pictures below). Based on that, some first larger batches were carried out at Revatech and successfully tested industrially in foundries using cupola furnaces. Revatech is now marketing one first briquetted product, and continues to collaborate with CRM Group to improve cold agglomeration and extend the waste streams that could be processed.
View CRM Group's profile
CRM Group
The CRM Group was formed through the merging of the talents and resources of two research centers: the Center for Research in Metallurgy and the Center for Advanced Coatings & Construction Solutions
Last updated: 16 November 2023
View Revatech's profile
Revatech
REVATECH takes care of industrial waste aggregation, pre-processing and processing of hazardous and non-hazardous industrial waste with a view to recycling, recovery and/or disposal.
Rue du Parc Industriel 6, 4480 Engis, Belgique
Last updated: 11 September 2023
Back to the list of success stories